Jeśli zastanawiasz się czy Twoja zgoda na wyjazd dziecka za granicę jest potrzebna ten artykuł jest dla Ciebie.
Jeżeli planujesz wysłać swoje dziecko za granicę z innymi osobami z rodziny lub znajomymi, to zagadnienie będzie bardzo ważne. Może się to na początku wydać dziwne i w głowie mogą się pojawiać sprzeczne pytania: po co? czy to potrzebne? itd. Ale jako rodzic możesz także podejść do sprawy inaczej: może zaoszczędzę sobie lub innym w ten sposób problemów? może ułatwię wyjazd i sprawię, że będzie przyjemnością?
Jako rodzic możesz być zobowiązany do napisania oświadczenia zgody na wyjazd dziecka/ dzieci za granicę.
Takie oświadczenie można sporządzić samemu lub spisać je u notariusza, aby było bardziej pewne – najlepiej, aby było ono napisane w języku kraju, do którego wybiera się Twoje dziecko wraz z opiekunami.
Gdy jest to z jakiejś przyczyny niemożliwe można spisać takie oświadczenie w języku międzynarodowym – angielskim. Koszt spisania oświadczenia u notariusza jest niewielki i wynosi około 30 zł a pozwala na wielokrotne wyjazdy dzieci z innymi opiekunami niż rodzice,  oczywiście jeśli dziecko zwykle jeździ na. z dziadkami czy znajomymi swoich rodziców.
Co zatem powinno zawierać oświadczenie?
Po pierwsze powinny się w nim znajdować dane rodziców lub opiekunów prawnych (imię / imiona) oraz nazwisko), z którymi dziecko wyjeżdża. Po drugie powinniśmy wpisać dane swoich pociech wraz z numerem PESEL i numerem paszportu. Trzecią ważną informacją jest termin wyjazdu oraz kraj do którego dziecko lub dzieci jadą. Powinniśmy zamieścić również informację o osobach, z którymi nasz pociecha wyjeżdża a więc imię/ imiona, nazwiska, Pesel oraz numer paszportu bądź dowodu a także adres zamieszkania.
Oczywiście, czasem istnieją sytuacje w których zgoda nie wymaga podpisu obu rodziców a zaliczają się do nich sytuacje, gdy jeden z rodziców:
– nie żyje
– jest pozbawiony władzy rodzicielskiej lub ma tę władzę zawieszoną bądź też ograniczoną i jej zakres nie obejmuje podejmowania decyzji w kwestii wyjazdów dziecka za granicę
– ojcostwo nie zostało ustalone
Natomiast zazwyczaj takowe oświadczenie zawiera dane obojga rodziców dzieci.
Specjalnie dla naszych Klientów przygotowaliśmy wzór oświadczenia na wyjazd dziecka/dzieci za granicę: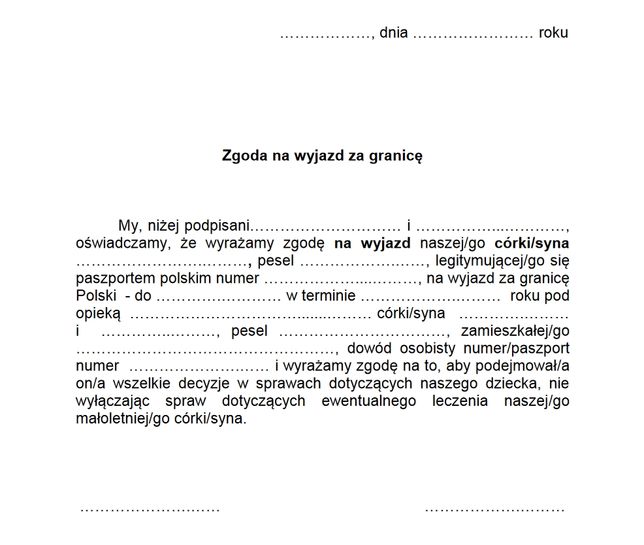 W sytuacji, gdy np. nasze dziecko jedzie z  naszymi znajomymi lub my jedziemy z dzieckiem znajomych, posiadanie oświadczenia od rodziców dziecka z pewnością pozwoli na uniknięcie wielu nieporozumień i problemów w trakcie trwania wyjazdu. Dlatego polecamy w ten sposób się zabezpieczyć.
Więcej informacji można otrzymać w naszym biurze podróży Urlopwraju.pl do czego gorąco zachęcamy!